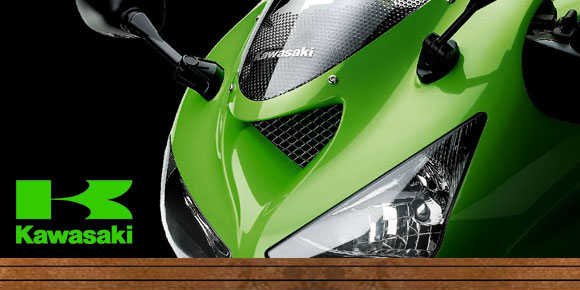 The sales staff at Kawasaki of New Mexico can help get you into a new Kawasaki ATV, JET SKI® watercraft, Sport, Super Sport, Cruiser, Touring, Dual Purpose Motorcycle, MULE™ Utility Vehicle, TERYX® Recreation Utility Vehicle, John Deere Gator, Compact Utility Tractor, or Lawn mower.
---
INTRODUCTING THE 2012 OFF-ROAD VEHICLE LINEUP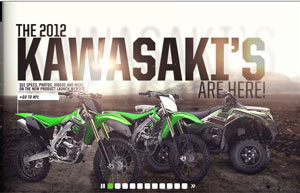 Kawasaki's all-new 2012 off-road vehicles include; Kawasaki's dirt bikes the KX450F and KX250F, as well as its new Brute Force 750 4x4i ATV. [Learn More] To see the entire 2012 Kawasaki product line, visit the factory website at www.kawasaki.com.
---
TICKET TO RIDE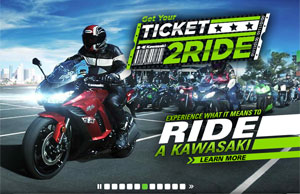 The Ticket to Ride Team will be traveling across the country bringing you the opportunity to test ride Kawasaki's all new 2011 street bikes. Stopping at 30 locations nationwide, the Kawasaki Ticket to Ride tour, gives the consumer and opportunity to experience the excitement of Kawasaki's all new 2011 street bikes. Participants must have a Motorcycle Endorsement and a D.O.T approved helmet, gloves, eye protection, long pants and closed toed shoes. [Learn More]
---
VULCAN® NATION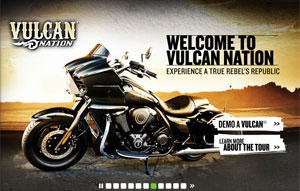 Kawasaki's Vulcan® Nation organized demo-ride program rolls across America on the pulse of cruiser culture. The Nationwide tour is about one thing and one thing only – enjoying the ride. Featuring major cruiser and Kawasaki Affiliate Rider Group events, bike demo locations, and customized Vulcan® Vaquero™ motorcycle displays. Vulcan Nation is for enthusiasts who care about one thing – the ride. Join the Nation today and experience the power and technology that only a Kawasaki Vulcan® 1700 Vaquero can deliver. Vulcan Nation. Welcome to the ride of your life. [Learn More]
---
STEP UP TO 300 CHALLENGE
Are you ready for the exhilarating thrill of the Jet Ski® Ultra® 300X? NASCAR champ Clint Bowyer doesn't think so. Here's your opportunity to prove him wrong and step up to the 300 Challenge. Grand prize winner will receive a 3 day trip for 2 to Lake of the Ozarks, Missouri, for a Jet Ski® race with Clint Bowyer, round-trip airfare and hotel included as well as a Jet Ski® Ultra® 300X and trailer. So enter now for your chance to win the ultimate Jet Ski® racing experience! [Learn More]
---